In 2022 tourism was finally back to its normal flow after the pandemic, with no more restrictions, borders were open and flights were reinstated again. We thought that there would be no more problems with traveling, but then the whole of Europe (and the world) was shaken by the war in Ukraine. That brought new questions and possible troubles for tourism. Some tourists were reconsidering their visit to the Balkans because of the Ukrainian conflict and they were not sure if Serbia was safe to travel to at this point. We were also frequently asked questions like: "Distance between Ukraine and Serbia?"Is Serbia safe because of the war in Ukraine?", "Does Serbia share a border with Ukraine/Russia?" etc. Therefore, with this post, we will try to answer these questions and explain the current tourist situation in Serbia for 2023.
Distance Between Ukraine and Serbia?
Let's start with our geographical location in Europe. Serbia is located in the Balkans (southeast part of Europe). Being a land-locked country, Serbia shares a border with many countries (Hungary, Romania, Bulgaria, North Macedonia, Montenegro, Albania, Bosnia and Herzegovina, and Croatia).  On the other side, both Ukraine and Russia are located in Eastern Europe. These two areas are not close at all. By car, Serbia is around 2000km (1250 miles) away from the conflict zone in Ukraine (photo 1). As you can see from the map below, from Serbia to Ukraine road distance goes across either Hungary (blue road) or Romania and Moldova (gray road). That is just to reach the west of Ukraine, but the whole war zone is on the other side of the country further east. Neither of the options are close to Serbia, it is a fairly far and complicated distance to cross. It takes at least a couple of days of driving with many border crossings.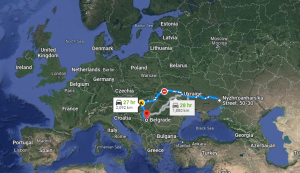 The road distance between Ukraine and Serbia
The flight distance is approximately 1300 km/800 miles (photo 2).  As you can see from the maps, Serbia does not share a border with Ukraine or Russia.  Between Ukraine and Serbia are Romania (which itself is a fairly large country) and Moldova.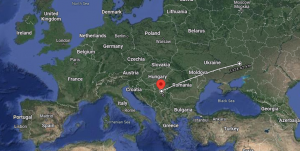 The flight distance between Ukraine and Serbia
Is Serbia Safe to Visit?
Yes, Serbia is absolutely safe for traveling! Since this war is pretty far away from here, there is nothing to fear about visiting our county. This conflict does not affect Serbia directly and we are not involved in it at all. Like most of the world, we are informed about the war through news and social media. Except for hearing about the conflict on TV or the internet, there is no direct influence on everyday life. Actually, Serbia is one of the countries which tries to stay completely neutral in this conflict, since we have a good relationship both with Russia and Ukraine. Because of that politics (staying neutral) many Ukrainian and Russian citizens came to Serbia in 2022. Most of them came for business and moved their IT companies to Belgrade. Streets are safe, people are friendly and tourists from all over the world are back. From 2021 tourism has returned to its normal flow. Covid restrictions are lifted and Belgrade is again one of the most vibrant cities in this part of Europe.
What do the Numbers Say About Serbian Tourism in 2023?
According to official numbers provided by the Tourist Organization of Serbia, in 2022 tourism definitely recovered! During the period January – December 2022, the number of tourist arrivals was 54% higher compared to 2021. But more important – the numbers are almost equal to the results in 2019. The total number of tourists visiting Serbia in 2022 was 3,3 million and in 2019 that number was 3,4 million. Belgrade was the most popular destination with around 1 million tourists, achieving 2,6 million overnight stays. The big news for our capital was that river cruises are back as well. Since Belgrade lies on the meeting point of two great rivers, Sava and Danube, it is an important destination on many itineraries for tourists coming from Western Europe. Alongside the Danube, river cruises boosted visits to other popular places such are Novi Sad, Smederevo, and the stunning Iron Gates.
Our tour company also noticed an increase in the number of tourists coming from the USA, UK, Germany, and other European countries. From our experience the most visited places in 2022 and the best-selling tours in our company (besides Belgrade) were Novi Sad and Fruska Gora Monasteries, Iron Gates and Golubac fortress, Tara National Park and Mecavnik, and our top-selling Sumadija wine tour. We expect the same trend in 2023.
If you are planning to have a true Balkan experience in 2023 check out our Western Balkans Tour. For more information visit our website and book your tour. We will be glad to help you meet Serbia in person.