"Hi, mate, we've got our plane tickets. We are leaving Seattle in two hours. Get us some ajvar and be ready to fulfill your promise. We want to meet Serbia in the next 5 days. Please choose Serbian top five destinations that we just must visit and take us there."
That was all that Eddy had sad over the phone before hanging up. A year and a half ago, he, Lucy, Martha and John took me to an unforgivable road trip through USA. Now is my turn to do the same in Serbia.
The task was clear – think of Serbian top five destinations to take friends so they can experience our history.
Thank God, I had a couple of jars of ajvar in the pantry – check. Now, I had to think and google out which destinations have the essence of our country and that unite history, spirituality, Serbian free spirit and geographical significance. Love for a good drink shouldn't be left out either.
And I have found all that.
Fruška gora
The first on my "a must see"  Serbian top five destinations list was the "Serbian Holy Mountain". My American friends were excited to visit Fruska gora, a very center of the Serbian spirituality. They had a 1001 question.
I told them that there are 17 monasteries on Fruska gora and that this mountain, with its famous history was an inspiration to many famous poets – from Branko Radicevic and Jovan Jovanovic Zmaj to Milica Stojadinovic Srpkinja. In these monasteries, great men of Serbian history found their peace – Vuk Stefanovic Karadzic, Dositej Obradovic, Filip Visnjic, Karadjordje…
There was not much time so I decided that we should first visit monastery Vrdnik that had been watching over the body of the holy knyaz Lazar, since 1811. The body and the other relics were brought here by monks from the Ravanica monastery, so the Vrdnik monastery is also called Little Ravanica.
Today, the holy body is back in the Ravanica monastery. Still, in the Vrdnik monastery, there is a clavicle of the holy knyaz Lazar that is kept in a glass box embedded in kivot (a little chest that stores bones of sacred people).
Eddy, Lucy, Martha and John were especially impressed by iconostasis that was made in the period of baroque to classicism transition and which took our breath. We indulged in its beauty. I think they made at least 300 pictures and put it on Facebook and Instagram immediately. There were hundreds of likes within a couple of minutes.
As they told me, they don't have many opportunities to see these kinds of things in the USA, and visiting Serbian orthodox monastery was quite a refreshment.
Of course, they bought a whole bunch of books. Lucy even bought an icon painted by monks.
We enjoyed the monastery so much that we didn't even realize that half of the day has aready passed. Wanting to see as much as possible, we continued our journey to the Petrovaradin fortress in Novi Sad. The Americans were thrilled when I told them that that is the place where the Exit musical festival is held every year. They even looked it up on the YouTube and when they saw what the festival looked like, they promised to come next year just to be on Exit festival. Our stomachs reminded us that this calls for a celebration, so we opened a jar of ajvar and cut warm bread.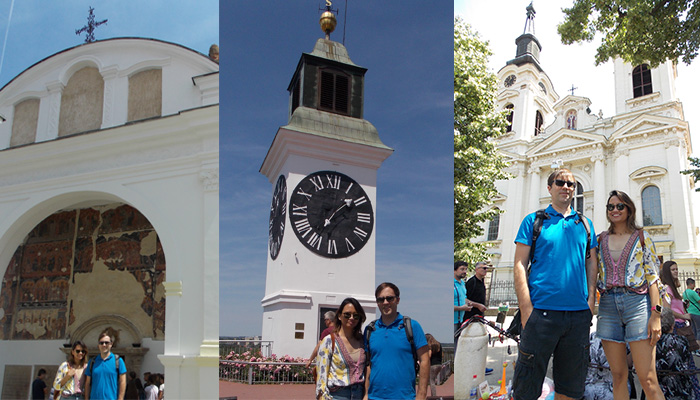 The Iron Gate gorge
The next day was reserved for visiting Djerdapska klisura. Martha, Lucy, Eddy and John were checking out likes on their social media when I told them that we are up for a real treat for taking pictures.
They didn't believe me until their jaws dropped in front of the, I can say and not be lying, one of the most beautiful sceneries in the world. Right there, where the Danube winds, broadens and narrows, cutting the colossal breathtaking canyon, was the feast for our eyes. It is no longer necessary to comment why the Iron Gate gorge is definitely one of the Serbian top five destinations.
Four Americano was up for more surprises. We boarded a boat and sailed off on the Danube. I have arranged with an old skilled boatman to take us to the Trajan's Plaque that dates back to between years 100 and 103.
The Plaque has Latin inscription:
IMP CAESAR DIVI NERVAE F
NERVA TRAIANVS AUG GERM
PONTIF MAXIMVS TRIB POT IIII
PATER PATRIAE COS III
MONTIBVS EXCISI. ANCO..BVS
SVBLATIS VIA. .E.
(Emperor Caesar, the son of the divine Nerva,
Nerva Trajan Augustus, the defeater of the Germans,
The great pontiff, fourth time appointed as Tribune,
Father of the Fatherland, Consul for the third time,
Excavated mountains and put wooden beams
From which this road was made.
This plaque is situated 21.5 m above the original place after the Roman road was submerged due to building of the hydroelectric power plant.
For the very end I saved a special treat – Lepenski vir. They observed this 8000 years old Neolithic settlement in disbelief. I told them about Dragoslav Sredojevic, the archeologist responsible for the research of the Lepenski vir, as much as I knew. Also about the marvelous figurines that blond inhabitants made of stone and… and I couldn't take it anymore. I made a parallel with the Egyptian kingdom and, jokingly, emphasized that Lepenski vir is the proof that Serbs are the oldest nation and that the ground that we stand on is saturated with such amount of history like a few places in the world.
After a day full of excitements Martha, Lucy, Eddy and John slept like babies.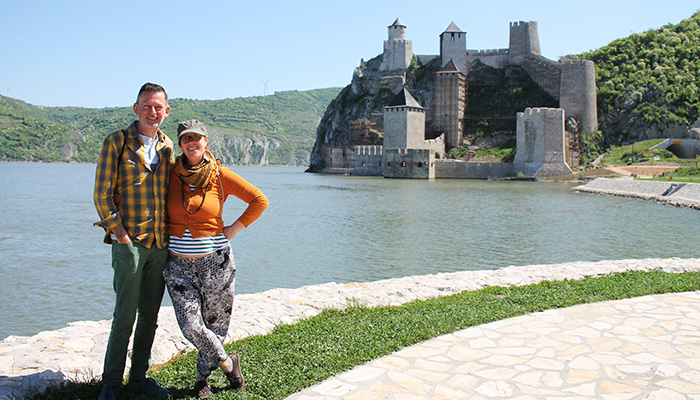 Topola and Oplenac
Tomorrow was the day for meeting the heroic and free spirited side of Serbia, that has never put up with being in a yoke, vozhd Karadjordje – the leader of the First Serbian Uprising.
The first thing that surprised Eddie was the fact that Topola, as a significant historical location and a place from which king's family line originated from, has only 7000 residents.
I explained that, practically, almost every place in Serbia had some kind of historical significance, and that the fact that Topola has small number of inhabitants, makes stories and memories longer alive and shared through generations. Memories don't last long in big cities, and the new quickly replaces the old.
Of course, we also went to Oplenac and visited the church of the Saint George, made of white marble, built by Petar Karadjordjevic I. Actually, it is the mausoleum of the Karadjordjevic family. The significance of the royal family is the main reason why this small town is on Serbian top five destinations list.
"Here is the capital of the rebelled Serbia. This is the ground that the rebellions were standing on and this is the place where, out of respect, you must cross yourself. And have a glass of rakija. Let's go to the restaurant", I told them.
 
The Sargan eight train
The fourth day was reserved for the Sargan eight and its wonderful landscape wrapped in the famous Kreman precognitions. As soon as I've mentioned prophecies Martha started talking about the Salem witches and was interested if this was the similar story.
"No, Martha, there are no witches, vampires, werewolves or any other evil forces. Everything points to the fact that these prophecies were fake and that it was all king Milan Obrenovic's manipulation by which he tried to make conditions to divorce his wife – queen Natalija. It was all a political game that is now a good story for tourists", I explained her.
Her disappointment was gone the moment she saw a "Nostalgia" train and realized that we were going to ride on this "wonder on the railroad".
Since the moment we started, and four hours on, we couldn't take smiles of our faces. We were overjoyed by going through each of 22 tunnels and over 5 bridges. Luckily, we brought 3 memory cards so there was enough space for all the pictures in the camera.
After that ride I asked Martha what she thinks now. "I think the Sargan Eight train would be number one on my Serbian top five destinations list", she smiled.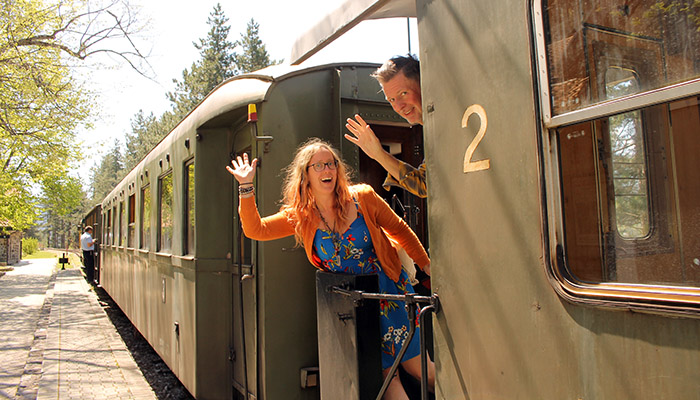 Sumadian wine-cellars
The last day we wanted to go to Sumadija and have wine degustation. Practically we just continued the previous day's adventure. I thought that first you have to see and feel Serbia so you could feel the taste of wine in the right way.
It was a beautiful sunny day and we were walking through the vineyards. Still, our walk didn't last very long because Eddy was ready to try some new tastes.
"We've seen a lot of nature during these four days. Now it's time to try your famous Shumadian wines". He tried to say this in Serbian, but it sounded like "shum maiden wine". We visited three wine-cellars: Despotika, Kraljevska and Aleksandrovic. In Kraljevska, under the influence of the wine, Lucy and Eddy, who were secretly madly in love, found courage to disclose their secret to each other. A glass later and they had their first kiss. This was a reason for a celebration so we made a mini party in the Aleksandrovic wine-celler. I guess after this kiss, Sumadian wineries will be number one on Lucy's list of Serbian top five destinations.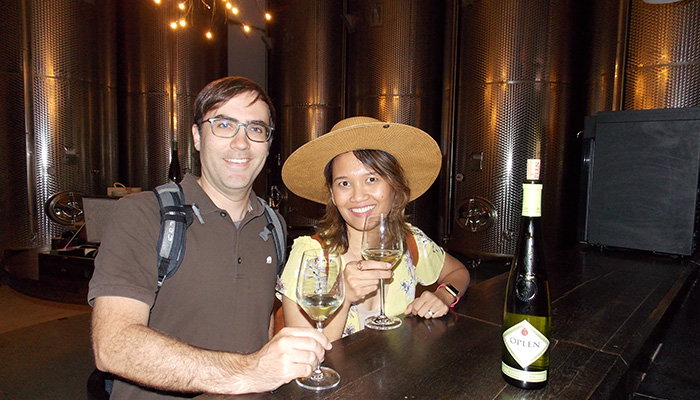 We also made a new pact. The next time they come, we are going to make the same tour, but the other way around. First we would visit vine-cellars so we could get us some great wine to enjoy every evening of our great journey.
If you want to create nice memories with your friends, you can pick one, two or all of the Serbian top five destinations , relax and really enjoy yourself.