Every wine is a child of the climate where it sprouts from. It brings together not just the sun and the fertile ground, but also the character of the land, strength of the people and the history that permeates it all. "In vino veritas" is an old proverb and Šumadian wines confirm that by bringing to oenophiles exotic scents and tastes that kings have enjoyed in, as far as time goes back.
This is the reason why taste of truth that Šumadian wines give to your palate, represents the feast that breathes freedom, the feeling of summer breeze on your skin and the delightful smell that you just have to experience. Luckily, I was convinced of it firsthand.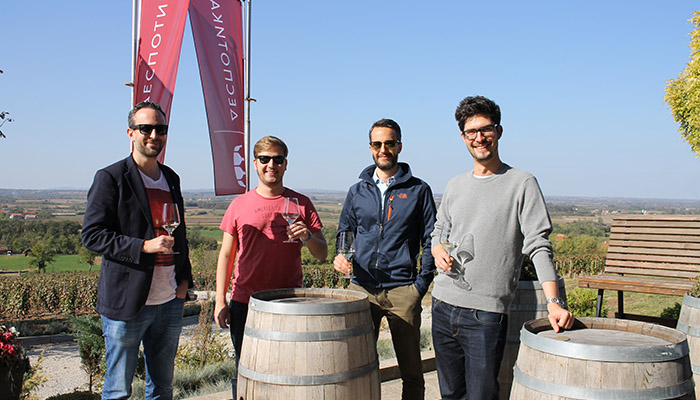 Sumadian wine pedigree
Geographically Šumadija is a unique area for grape farming and winemaking. It is bounded by 5 large rivers: Sava and Danube on the North, West Morava on the South, Great Morava on the eastern side and Kolubara on the West. The whole area is interspersed with forests, water springs and mountain rivers. Height is from 100 to 1130m altitude.
This makes Šumadija very similar to Tuscany, Italy, but with moderate continental climate interspersed with microclimate regions with the features of the Mediterranean climate. In these very "climate pockets" Šumadija breeds its grapes. These conditions are very suitable for grapevine and they provide wine with rich and well balanced scent and taste. Every wine I tasted had a full-body smell, a fine balance of taste and a pleasant drink that really strengthened me after a sunny day.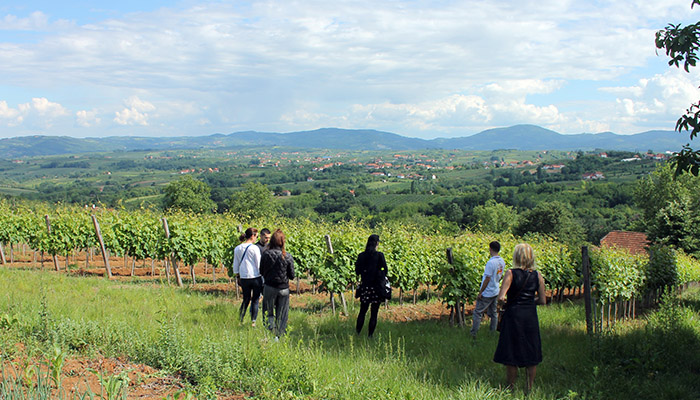 Every glass of the Šumadian great quality wine gives your palate the feeling of warm summers, cold winters and fertile land.
All of this, as I learned from the local community, made quality wines become trademark of this region and grape farming a tradition that lasts throughout centuries.
It is interesting that Šumadija has different types of soil, therefore wines from different wineries have its personal seal and bouquet that makes every maker extremely proud.
Grape sorts cultivated in Šumadija
Specificity of the Šumadian wines also comes from the indigenous sorts of grapes that grow there. Some of them are tamjanika, smederevka, zilavka, dinka, skadarka, zacinak… Each of them gives a special bouquet to the wine.
There are also international sorts of grapes such as riesling, sauvignon blanc, pinot noir, cabernet sauvignon, semillon and gamut. These sorts were brought to Šumadija by king Aleksandar Karadjordjevic.
The Šumadija winemakers, always in a good mood for conversation, told me that King Aleksandar has fallen in love with wine and winemaking thanks to his father king Petar the First Karadjordjevic so, in 1923., he planted his first vineyard on Oplenac. There is an interesting legend from this time.
King Petar, as the wine growers tell, has produced grapes in Vencan wine cooperative. As it sometimes happens with sovereign rulers, one time he asked for his load of grapes to jump the queue because it is not kingly for his royal tandem to wait with the others. But the king didn't get the approval of his fellow cooperatives and his request was denied. A bit angry because of this unexpected situation, king Aleksandar took a deep breath and made a decision – he is going to make his own wine cellar on Oplenac.
And so it was made. King's cellar was opened in 1931. This impressive monument is 45m in length and 15m in width, with the capacity of 300,000 liters and two stories underground. There, the wine was kept in barrels made, of oak from Slavony, that had volume of 4000 liters. The Kings' cellar is still in great condition, and the legend says that Sumadian wines should be drank at this place because that is where they have the best taste.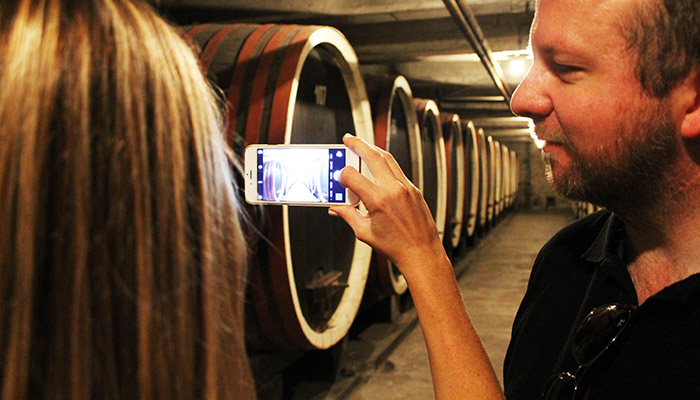 Since the beginning of the 19.th century Šumadija became famous for its white wines, whose making was improved by German eneologist Emil Reder. The winemaking process was also improved by French technologist Jubin whose secret process still gives the bouquet to Šumadian sparkling white wine.
One of the best advice I got before visiting Šumadija is – when you start a wine tour through Sumadia, in higher altitudes make sure to try white wines, and lower you must experience wines from dark grapes that give splendid fruits in this area.
Of course, pay attention to the type of wine that is most pleasing to you, but I advise you to try the other kind. Who knows, maybe you really like it.
Šumadian wines through history
Romans were the first ones to enjoy Šumadian wines. The magnitude of grapevine farming in this region can be seen in the name of village in the vicinity of Topola that is called Vinča. This place owns its name to Romans that gave it such a symbolic name – Vincea (winery).
From local wine historians I learned that famous travel writer De La Broquiere, a knight from Burgundy, was traveling through this area on his way to Tsargrad (Istanbul). This French noble was a wine expert, and, while in the area, couldn't resist tasting Šumadian wines. He was so impressed by the taste of the Šumadian wines that he was inspired to write a few pages of his itinerary about the vineyards on the slopes of mountains Kosmaj and Vencac.
Under the Osman empire, wine making was significantly reduced because Turkish people didn't drink it. Uprising of Šumadian winemaking began with Karadjordje Petrovic becoming a political authority. His family had been in winemaking business for generations.
Unfortunately, after WW2 and the process of nationalization, vineyards in this region become neglected. Final flourish of Šumadian winery begun in '90 years of the last century, but was very rapid. Today, Šumadian wines can proudly stand right next to the most famous wines of the world.
A relaxing place for your body and soul with red or white wine
After just an hour spent in Šumadija, this beautiful place in Serbia, everything became crystal clear to me.
Wine tour in Šumadija is one of the best ways to bring together relaxing and enjoying in wine and nature. Tourist wine tour is an opportunity to escape from the city tumult, to feel peace and enjoy in far known Šumadian hospitality. And, of course, with a glass of red or white wine, whichever you prefer.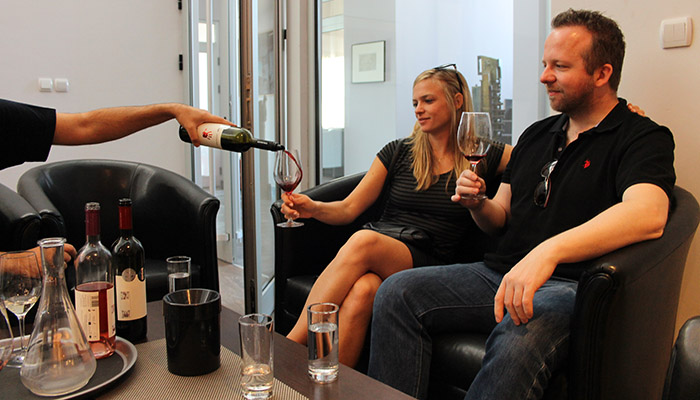 It seemed to me to be immersed in another world filled with peace and harmony. True enjoyment for all senses and rest of all problems.
Relax in wonderful Šumadian scenery, visit cultural and historical monuments of this region, and meet Šumadian people. These people will always welcome you with their arms and hearts wide spread, a sincere smile on their face, ready to serve you and do everything for your comfort. These people know that the truth is in wine, and want to selflessly share their happiness with you.
In Šumadian wineries you can experience the life of the real wine makers, find out what makes the taste if Šumadian wines so exquisite and hear numerous legends and stories of history and traditions.
The rich content gives you the opportunity to dive into this world for a few hours or a couple of days, or you can keep coming back. It is always there for you, keeping you a seat and a glass of the Šumadian wine.
And all that just in an hour drive from Belgrade.