This bicycle tour through Belgrade is a suggestion how to spend a great day in Serbian capital and it`s designed for all architecture lovers and cycling fans. In a single day, you can enjoy in fabulous panoramas of river banks of Sava and Danube, see city bridges, visit the most interesting buildings from communism period after the World War II, enjoy in great food and all of that while you are riding a bicycle. For this adventure you don`t need a guide, only a bit of spirit for the adventure and average fit body 🙂
Bicycle tour through Belgrade – Gale Muškatirović sport center
Starting point is sports and recreation center "Gale Muškatirović", which you can reach by public transportation 24, 79, E8 or E9. While exiting the bus, you will see an imposing concrete console hanging on concrete pillar. This house of sport is represented by group of buildings with playful forms which are a masterpiece of their architect, academician Ivan Antić (1923-2005), who was professor at the Faculty of Architecture. In 1973 former President of the Republic Yugoslavia, Josip Broz Tito opened this centre of sports.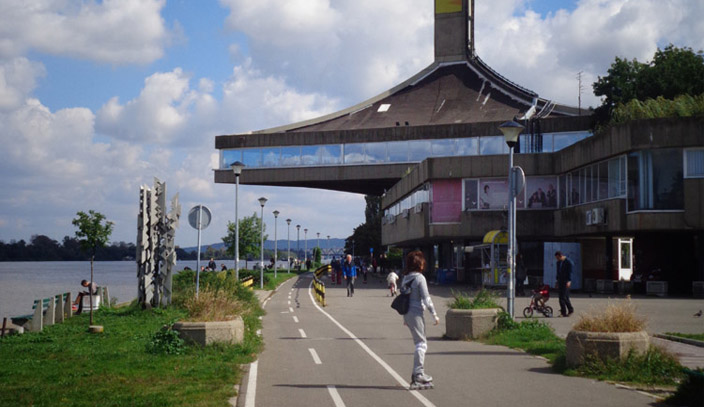 On the left side of the promenade you will find a store where you can rent a bike, Markonisport (600 dinars for the whole day rent, working hours 9:00-21:00, and you'll need some personal document, ID or Passport). It takes few minutes for renting and adventure can begin.  First you will reach confluence of rivers Sava and Danube, while on the left side you`ll see fantastic view of Kalemegdan Fortress and Victor monument, which is the symbol of Belgrade. Riding further you'll get to the Concrete Hall, the "hotspot" of capital today. Popular restaurants will attract you to stop there, but you have just started and you have to go further, it`s a long tour. When you reach Branko's bridge use bicycle lift to reach the top of the bridge which will get you across to New Belgrade side.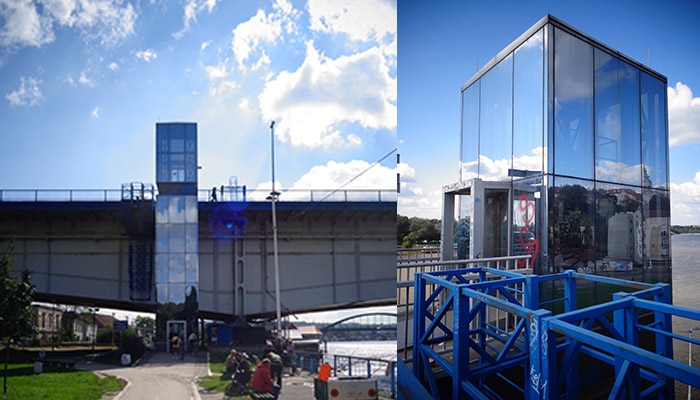 Bicycle tour through Belgrade – Palace of the Central Committe
From the bridge you`ll see Palace of the Central Committee of the Communist Party. The architect of this building was Mihail Janković (1911-1976). Next to it is the shopping mall "Ušće". This 100 meters high tower was a state-of-the-art building in the sixties of the last century. The tower has 360 offices, 12 cabinets, 20 halls and 10 lifts and it represented the power of Communist Party. NATO bombing in 1999 was the best confirmation about how solid it was. Twelve cruise missiles haven't succeeded to level it, thanks to good foundations. Engineer Milan Krstić (1914-1974) invented an ingenious solution of sand bags in steel armor. Few years after the bombing the building was reconstructed and returned to use as office space, which is now used by powerful companies of capitalist society. In 2019 this building has got a twin tower.
Bicycle tour through Belgrade – Museum of Contemporary Arts
Riding towards Zemun, you`ll reach the Museum of Contemporary Arts, which is one of the most important works of architecture in the second half of the 20th century. Ivan Antić and Ivanka Raspopović are the authors of this winning project which won the competition for the best solution in the sixties.  During the construction period, this building was subject of mocking and denial. But it gained great fame with numerous publications in domestic and foreign press. You can see this beauty of architecture from outside and inside. Finally museum is open after almost ten years of reconstruction.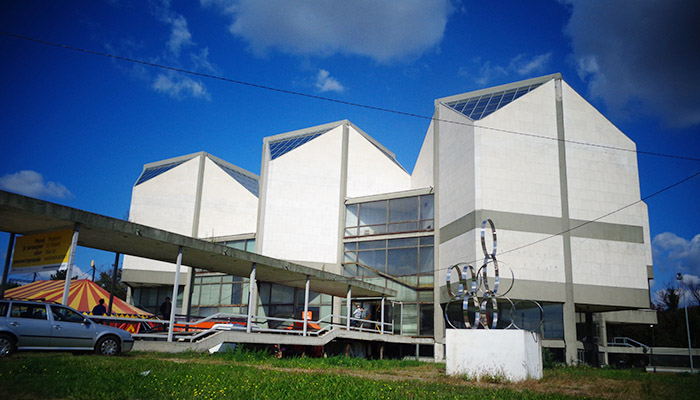 Bicycle tour through Belgrade – The SIV building
The SIV building (Federal Executive Council or Palace  of Serbia) was designed by Croatian architect  Vladimir Potočnjak and it has 4 parts with area more than 65.000 sqm. The building was made in period from 1947 till 1954, there are 6 salons which were symbolically named after the names of six former Yugoslavian republics. All six salons were connected to the largest one, which was named Yugoslavia. After Yugoslavia fell apart, salons were renamed into "red salon", "blu salon" etc. This impressive palace metaphorically represents power and stability of society in that period. In this palace, Josip Broz Tito was receiving official visits from world leaders such as American president Jimmy Carter, Prime Minister of the United Kingdom Margaret Thatcher, Romanian dictator Nicolae Ceausescu and many others. Interior of the palace is closed for public. However It`s possible to visit it on some special occasions.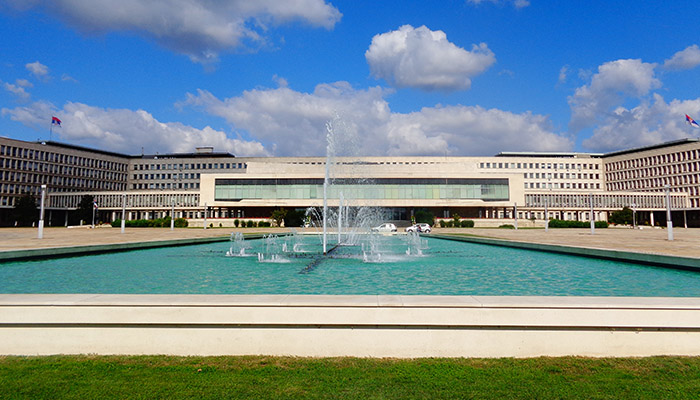 Bicycle tour through Belgrade – Hotel Yugoslavia
Hotel Yugoslavia was the most representative accommodation in former SFR Yugoslavia. Zagreb team of architects with leader Lavoslav Horvat (1901-1989) designed this building. Construction of the hotel lasted for a long period with many stops and breaks, mainly because of the crisis with the Soviet Union. Finally the hotel was finished in the late sixties and design of the interior was assigned to Belgrade team of architects (Ivan Antić, Mirko Jovanović, Vladeta Maksimović i Milorad Pantović). As a final result of such a long construction, which lasted more than twenty years, hotel with 5 star de lux category appeared. After NATO bombing in 1999, hotel was reconstructed by the end of 2013, when it was reopened as a 3 star hotel.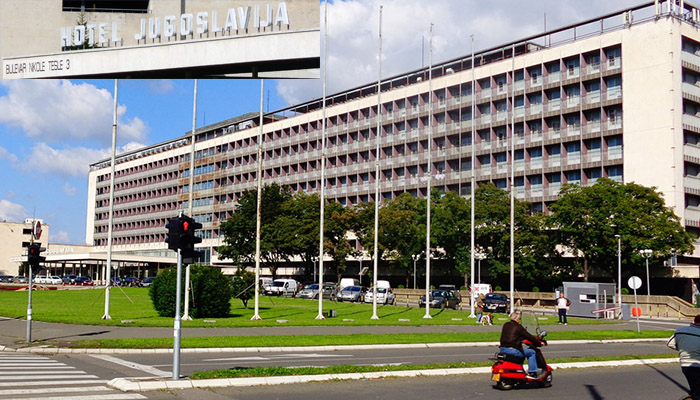 When you reach Zemun quay you should reduce your speed out of two reasons: first, place is crowded with people, second, you might miss many interesting facilities. If you feel hungry, you are at the perfect place to have a lunch. Along the Danube bank you can choose among many restaurants where atmosphere is almost like you are seating at seaside. If you prefer a bit quieter place, we suggest family restaurant Gallery (on Serbian Galerija, in Čunarska no.1 street), placed below the Gardos tower, which you could also visit. This small cafe-restaurant is sheltered from the main promenade, but it has a beautiful terrace with great view over the Danube, delicious food and lovely atmosphere. It's really worthy of additional effort to find it. After a meal, you'll recharge enough your battery to continue with the tour.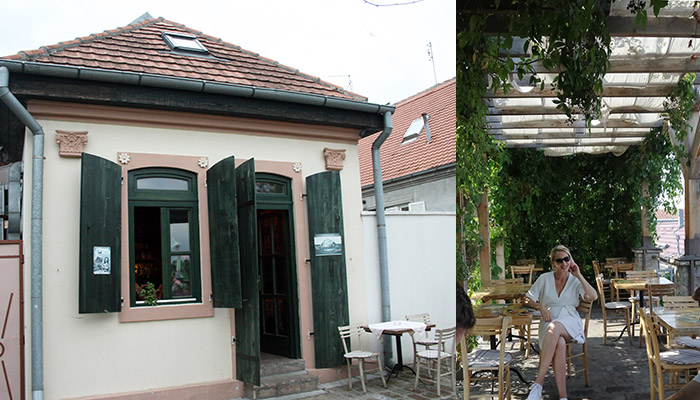 Bicycle tour through Belgrade – Building of Air Command Force
Before you move to New Belgrade part, you should visit Building of Air Command Force. Actually it belongs to Yugoslavian modern period between two world wars, but it would be a shame to miss it. It was built in 1935 according to the famous Dragiša Brašovan architectural design. It's placed on a square-like city block-building and for the long time it was considered as the biggest in volume building of Zemun. Side facade has uniformed rhythm of windows with discreetly placed figure of Icarus with its mythological symbolism, which suggests the character and purpose of the building. The building is registered as a cultural monument and it is located on Aviator square no. 12 (Avijatičarski trg 12). The consequences of NATO bombing from 1999 are still visible today, because the building is not fully restored, but it doesn't diminish its fantastic architecture.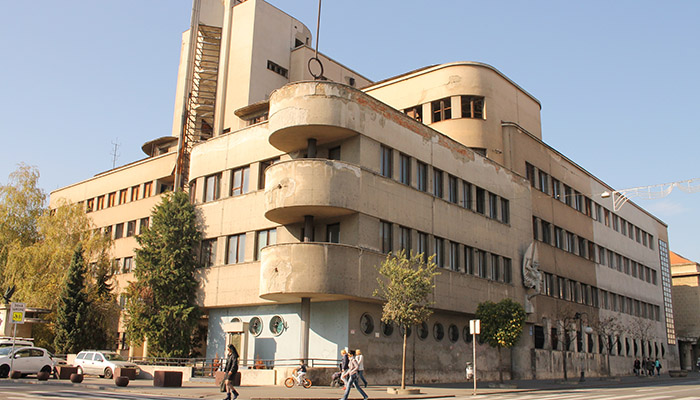 Bicycle tour through Belgrade – Genex tower
Crossing over the highway will provide excellent view towards building "Genex tower", which is known as West Gate of Belgrade. This 35 storey high skyscraper is one of the first sights travellers see when they are entering the city from Belgrade airport direction. Architect Mihajlo Mitrović designed this building in late seventies in brutalist architecture style. Two concrete towers are connected with gangway on 26th floor. Rotating restaurant is on the top of the 119m high building. The idea of ​​the restaurant that revolves around the bar in the centre was never realized, because motor for rotation was never purchased. One tower is residential and populated, and the other is abandoned due to unresolved property issues, now it is only home of giant billboards and TV transmitter. This was the first "smart" building in the Balkans.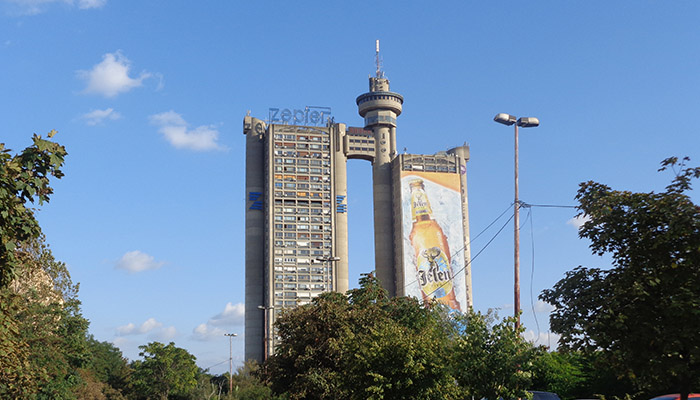 Bicycle tour through Belgrade – New Belgrade blocks
Riding through New Belgrade will be relaxing, this part of the city is flat and has well developed network of cycling paths. Here you will notice impact of brutalism in architecture by the blocks of residential buildings, such are blocks 61 and 62. Milenija i Darko Marušić designed these blocks in early seventies. Next point is Sava quay, place where you should take the boat to cross to the other bank of Sava. Boat ride costs 100 dinars and lasts only few minutes. You will dock in the area of ​​the park Ada Ciganlija. If you have more time and strength you can take a tour around Sava lake, otherwise you should continue in the direction of the Belgrade Fair.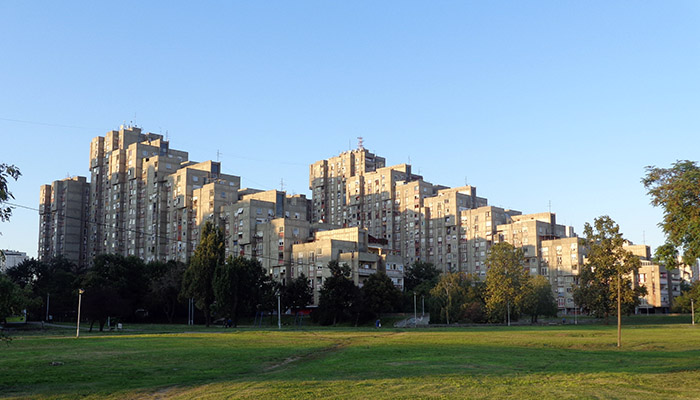 Bicycle tour through Belgrade – Belgrade Fair
Bicycle path will take you to the complex of the Belgrade Fair, which represents period of blossom of the Yugoslavian society in the fifties and the sixties of the 20th century. Construction of the complex lasted from 1954 till 1957 and project was designed by architect Milorad Pantović, engineer Branko Žeželj and Milan Krstic.  Three exhibition pavilions under the domes are connected by walkways. Technical innovation and original structure of exhibition halls put Yugoslav architecture to important place in European competition in that period. The range of the dome Hall 1 and spherical shells of Halls 2 and 3 exceeded all previously known examples of such structures in the world. The complex was declared as significant monument of Serbia in 2009.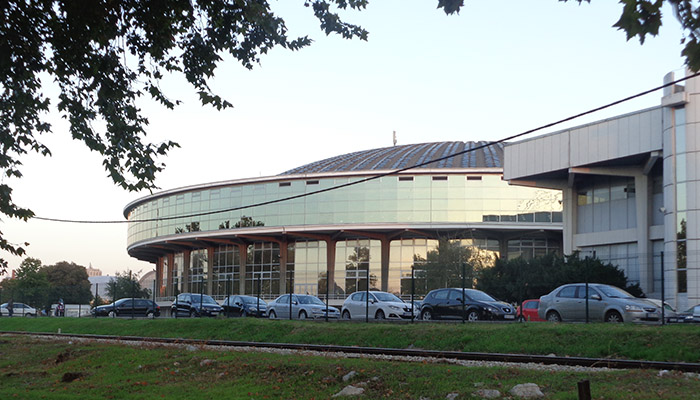 Path further takes you along the bank of the river Sava and you'll be able to see closely all Belgrade bridges: Ada Bridge, new and old railway bridges, Gazela,  Old Sava and Branko`s bridge. Before you reach Branko's bridge you will cross by Belgrade waterfront.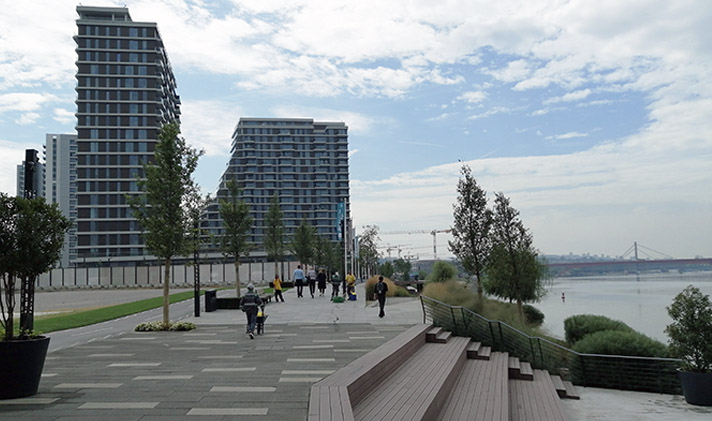 After Branko's bridge you are again in the zone of Sava pier and adjacent to it is Concrete Hall. As you are now close to the finishing point, you can allow yourself a break in one of tempting cafe-restaurants of Concrete Hall. Make sure that you don't forget about the time, because you need to return the bicycle by 9 pm. When you finally get off the bike, you will feel like you were flying, mostly because you have changed so many scenes in such a short period.
If you ever try this route let us know if you liked it 🙂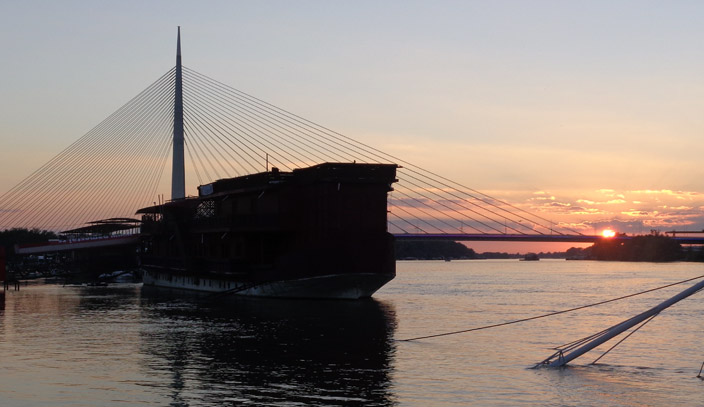 If you are looking for guided city tours in Belgrade take a look our suggestions.