This April it'll be straight six years since we wrote a post about Where to stay in Belgrade, so I thought it's about time to see what has changed over the years. Hopefully for the better. This time I'll use a bit of a different approach. Instead of sharing own impressions, I'll elaborate which are the best hotels in Belgrade based on traveler's choice and the following facts:
The most frequently used Belgrade hotels by our tour guests which they book on their own
Impressions of our tour guests about the hotels they booked on their own
Impressions of our tour guests about the hotels we booked for them
All this based on 1500+ guests on tours over the last four years
If you are on this page, it means that you are probably an independent traveler who organizes its own travels and likes to experience destinations in a personalized way. Great! This matches the preferences of those 1500+ guests who used our service previously.  Let's get started.
The Best Location in Belgrade
First things first. Let's define what is considered for the best location to stay in Belgrade. If you plan to come to Belgrade purely for sightseeing and to enjoy the city as a tourist (even if you don't consider yourself a tourist) the best possible choice is to position yourself in the city center area. Many travelers make one big mistake, they book business hotels in the outskirts, because they are misled by their big names: Hyatt Regency, Crowne Plaza, Holiday Inn, Radisson, etc. Even though there is nothing wrong with the hotels themselves, the location is far from suitable for a tourist visit. If you come for a conference, sure, those are great, but if you want to soak up the atmosphere of the city, explore local gastronomic offer, walk around, then don't go there.
What do locals consider for the city center? Everything around the Republic Square, Terazije Square, Savamala and all the way to Slavija Square. Everything within the red line on the below image is what we consider "the center". So if you book anywhere within, or close to that red line, you won't make a mistake, at least location wise.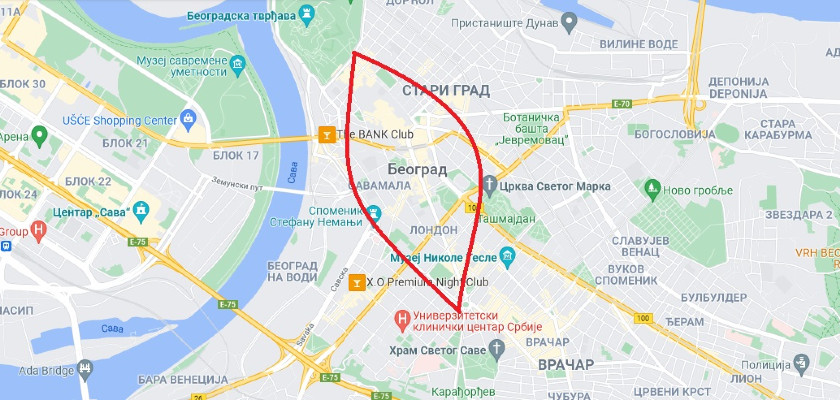 The Best Hotels in Belgrade – Traveler's Choice
For those who are not familiar with what Serbian Private Tours does, just a short info, we run private tours and activities in Serbia and the region. Part of our operation are city tours and day trips from Belgrade, and usually guests who book those activities book their own accommodation in Belgrade. The other part of our operation are multi-day tours where we book accommodation for the guests, as part of the package. So, when I look back to bookings for day trips and city tours all the way from early 2018 following hotels were the top choices of our guests: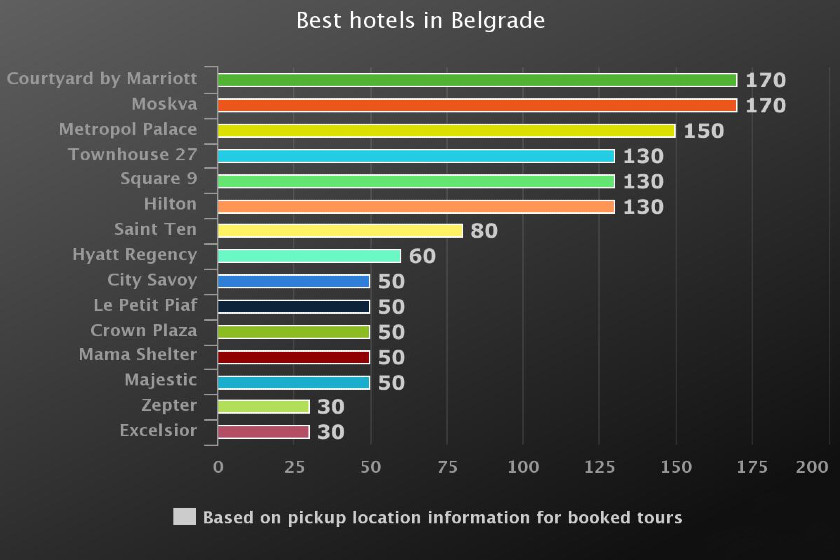 To elaborate the above list a bit. The top three hotels are all very close in terms of how often those showed up as a pickup location. Hotel Marriott and Hotel Moskva are located in the very center of the city, so that's the obvious reason, while Hotel Metropol Palace is not far from that red line on the map. Based on the guest's statements, the main reason why they chose the last one, over others in the city center, is the fact that it offers great service and facilities for a reasonable price, since it's a 5* star hotel. Hotel Moskva is the oldest active hotel in Belgrade, so it's a historic hotel, with great facilities, service and food. It's famous for its cafe and pastry products, especially "Moskva šnit" cake. Hotel Marriott is part of the chain and in the very best location in the city, so it's no wonder why it is so popular.
Hotel Townhouse 27 is a great small boutique hotel with personalized service and dedicated staff. It's far from a budget hotel, but definitely it's reasonable compared to the quality and location. If you want nothing but best for you, then Hotel Square 9 is definitely your choice. In my humble opinion, it's still the best hotel in Belgrade among the best hotels in Belgrade.
I wouldn't elaborate this list further aside from the observation that among the top 15 picks, only 5 are part of international hotel chains, while 10 are independent local hotels.
The Best Hotels in Belgrade – Our Choice
When we design our multi-day tours for accommodation selection we try to use as local and as authentic as possible. Reasonable price is also one of the criteria. In rural areas we try to use local guesthouses and households where travelers can experience local hospitality and to interact with the hosts, but in the cities, we use smaller, locally owned hotels where staff will know your name and where you won't be treated with just usual professional courtesy. So, over the years our list of hotels which we use in Belgrade has shortlisted to the following:
Hotel City Savoy
Is the default Belgrade hotel we use for our multi-day packages. There are a couple of reasons: location, staff, cleanliness, great spa and reasonable pricing for a four star hotel. Their staff is sincerely hospitable and always ready to make an extra effort to accommodate guest's needs. On top of that, the best massage I had so far was in their spa. Rooms are well kept, spacious and breakfast is great. It's only a couple of minutes walk from the main square and nearby to Skadarska street which is packed with nice restaurants and bars. So called Bohemian quarter. The main impression about this hotel from guests who used it on our tours is about excellent and dedicated staff.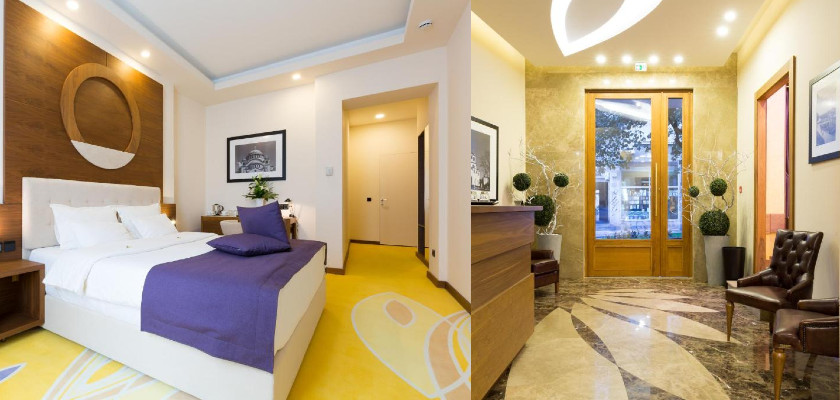 Hotel Moskva
A hotel which we use if guests ask for a more posh accommodation. Since it's a historic hotel, in a great location, with great choice of food and dining, but still very reasonably priced, we gladly offer it as an alternative. Guest's feedback is always positive, the only issue they sometimes report is that the standard double/twin room could be bigger.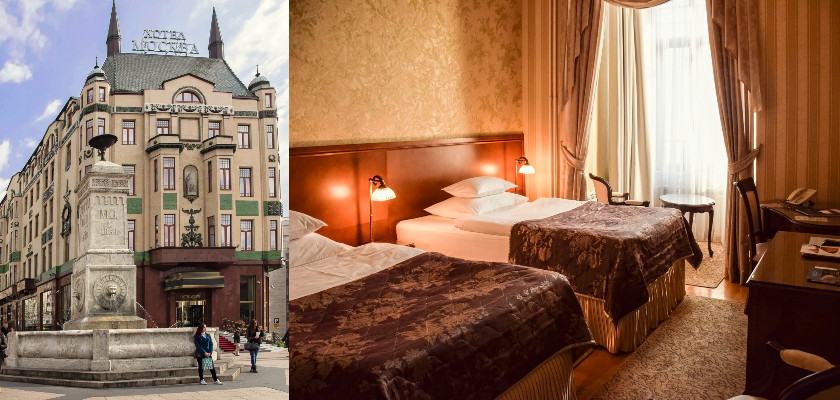 Hotel Square 9
Is a top place by any standard. Whenever I ask a guest how they liked their stay in this hotel, they can't find words to describe its fantastic rooms, restaurants, staff, location, service, food. It's no wonder that this hotel is a part of "The Leading Hotels of the World" association. It's very luxurious, but still the staff has a personalized approach and it's ready to go an extra mile to satisfy the guest. We use this one whenever guests seek high-end accommodation.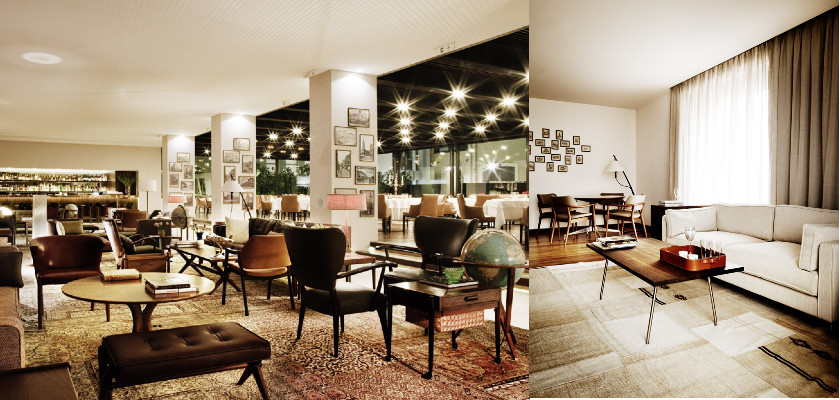 Hotel Belgrade Inn
This former 3 star hotel was upgraded to a 4 star couple of years ago. What qualifies this hotel for our list is a great location (only 3 min walk from the main square), very reasonable pricing, hard working and hospitable staff, as well as smaller but comfortable rooms. This hotel is offered when guests ask for a budget friendlier accommodation in the city center. So far only positive feedback on this hotel from the guests who stayed here.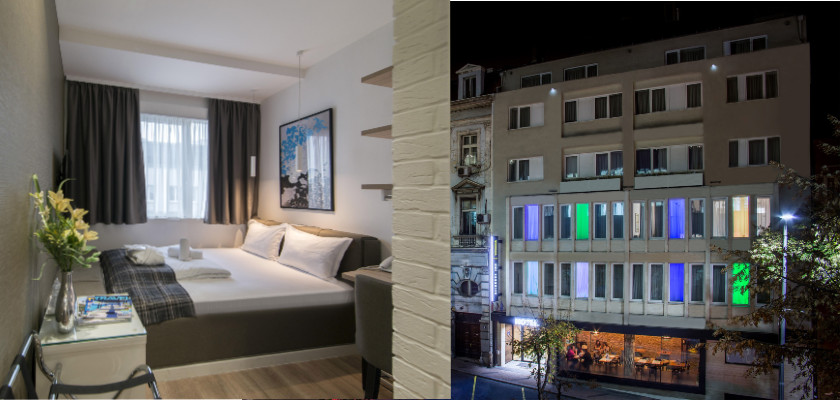 It's not easy to say which are the best hotels in Belgrade, but if we can make a conclusion based on the top picks of our previous guests, then the title would go to Courtyard by Marriott. As far as our choice is concerned, the best hotels in Belgrade are City Savoy and Square Nine.
If by any chance this post has inspired you to use us to book your Belgrade accommodation, I need to disappoint you. We don't offer that service per se. The idea behind this post is to assist you in your research. On the other hand, if you want to book a tour, you know who to call!
If you want to share your previous experience with Belgrade hotels or you just need advice, feel free to post a comment below.
*All hotel photos are provided by the respective hotels