The thought that I will drive for 14 hours all the way to the Adriatic Sea didn't really make me jump of joy. But, my wife Ivana insisted: "This way we will be able to enjoy nature of Mokra Gora and Sargan Eight train ride is something we really need to experience. I want to ride in Nostalgia train, and who knows, maybe we'll even see a Griffon vulture. It's amazing that the bird on our national coat of arms is a threatened species. It would be great if we could catch it on camera."
I remembered a line from "Hitchhiker's Guide to the Galaxy" – Any resistance is futile.
I packed our bags in the car, sat behind the wheel, and set off.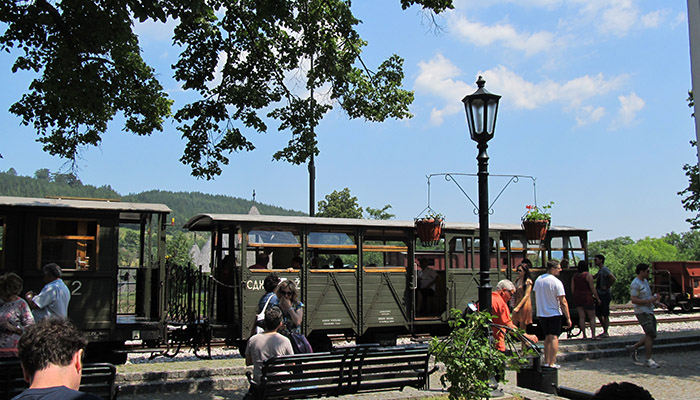 Sargan Eight train ride and the spirit of old times
The wheels turned swiftly and soon, concrete buildings passed and trees took their place. A few hours later, we breathed fresh mountain air with the sweet scent of grass and flowers. At first, I swiveled in my head. Price of city life. I didn't even realize that I would be so fond of escaping into nature and watching greenery instead of staring on the computer screen.
And then we saw a beautiful building at a railway station, facing a metal candelabra with flowers. The wife shook her hands with a childish smile on her face.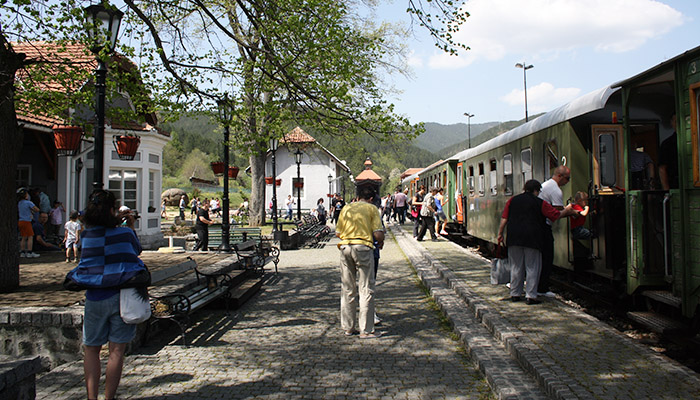 We just parked when the whistle of the train swooshed true the air.
"How unusually this sound is merging with the environment. It's just like a messenger from old times" I thought.
I just slid the door of my car and pushed it. It seemed rude to distort the balance and peace of this place by making a noise.
My wife interrupted me from thought.
"Let's hurry. We need to take the Sargan Eight train ride right now. Take the camera, we'll need it", she said cheerfully and started rushing toward a small steam locomotive housed in green wagons.
And inside … The whole interior was made of wooden strips with beautiful texture. The bench seats, just wide enough for one person or for a couple in love that doesn't mind sitting right next to each other.
Soft twitch and we started a journey through the landscape so impressive that I completely forgot about the beauty of a wagon.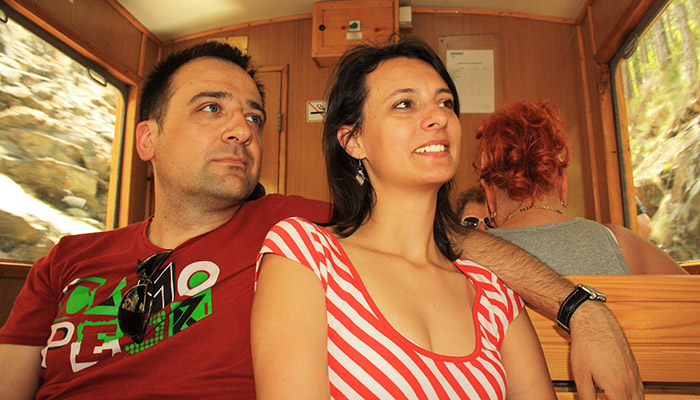 The connection between Europe and the Adriatic
"Do you know that Mokra Gora and Sargan Eight train were the main link of entire Europe with the Adriatic coast until 1974? This way, the Ćira train went from Belgrade, all the way down to Dubrovnik. In the early 20th century, the Austro-Hungarians had the idea to build a railroad in order to connect Užice with Sarajevo and the Sargan Eighth was a real challenge because of the vertical rise of 300 meters, "my wife told me, while the train drove lightly.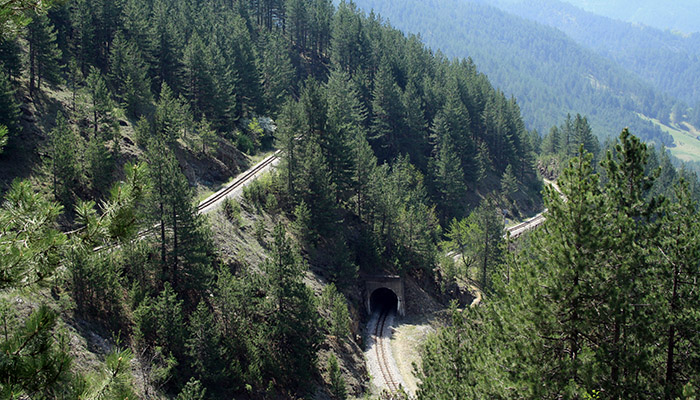 Who needs a tour guide when you have a wife in love with Mokra Gora.
"And why is it called the Sargan Eight?" I asked.
"The story says that Sargan was named after Šarac or Šarga, the horse of hero Marko Kraljević. As I already told you, the railway here could not be built straightway because the climb is too big and the locomotive wasn't strong enough to pull wagons and passengers. That's why they made a loop or "eight" in a length of about 13.5 kilometers. So the name Sargan Eight remained.
However, during the construction, due to the difficult terrain, it wasn't easy to make a rail. Builders had to clean the terrain, pierce the tunnels – specifically 22 tunnels, build bridges and viaducts. It's a real wonder how they managed to do it all", she continued.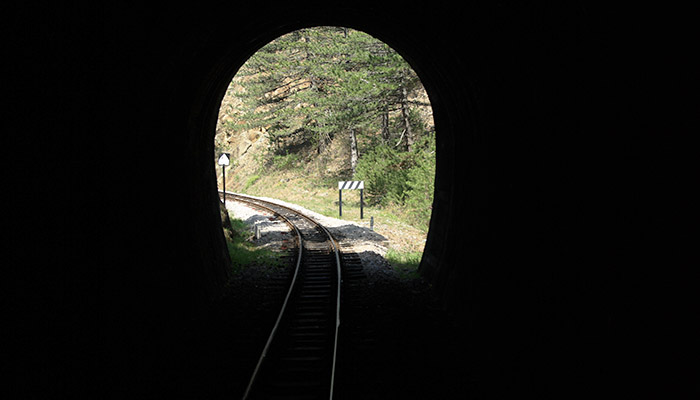 We enjoyed the ride and just kept snapping the camera. There was no need to fit a frame or look for some unusual angle. Every photo was like the one from a postcard.
The company from the Sargan Eight train ride
"It's really amazing how all this was done without modern machines in a pre-World War II time. Take tools into your hands and dig, "I said.
"It was difficult and very dangerous work, and besides the workers, the convicts were also engaged. During the excavation, there was one big accident. As one tunnel was pierced, stones rolled and 200 people were killed. On the hill Budim, where the accident happened, a monument in honor of the victims was erected. After the tragedy, the works were suspended for five years, until 1921."
Several passengers heard Ivana's story. They, like us, made a detour on their way and came to enjoy the Nostalgia ride. We met and they asked if they could join us and hear more about Mokra Gora and Sargan Eight train ride. In return, they offered to take us to lunch in Drvengrad. It was an offer one doesn't refuse. 🙂
"Did you know that the station of Jatar on this line was just a pro form? That is, no single card has ever been sold on it, but it served only as a decorative object where passengers could rest a bit from a walk, "continued Ivana.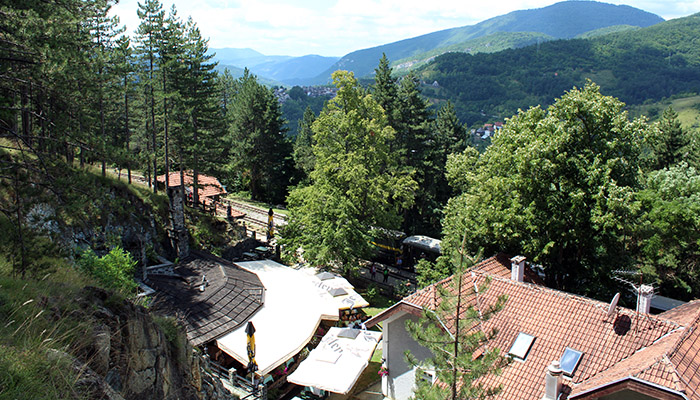 I was just wondering about what kind of a walk it was when people were traveling by train when she continued:
"Loaded train often went very slowly uphill. Passengers would then go out and walk. In fact, they walked much faster than the train could run. This walks passengers used for light conversations, enjoying nature, and often they would sit and eat in a good company from the train. That's why there are five gazebos with a view that can take away your breath."
And indeed. All the beauty of the Mokra Gora can be seen from these gazebos on the Sargan Eight.
Milan, one of our new friends, brought a guitar with him. He began to pluck the strings and play some wonderful melody. He said it's a Spanish composition "Alhambra" that speaks of the same name castle. I thought that these notes are perfectly describing this natural castle – the Sargan Eighth.
"As we drive, try to figure out where we came from and which way we are going forward. You will see it is nearly impossible because you can see the track on several levels. It's like you're in the picture of Salvador Dali, "said Ivana as people were genuinely started trying to figure out the path of this "endless" railroad line.
An old story in a new way
The last Ćira passed this route on February 28, 1974. On the wagons people wrote "Ćiro, goodbye", "You were good", "Nothing will replace you", "You have served us well".
In 1999 began work on the reconstruction of the Sargan Eight as a tourist destination, and today the old wagons ride again.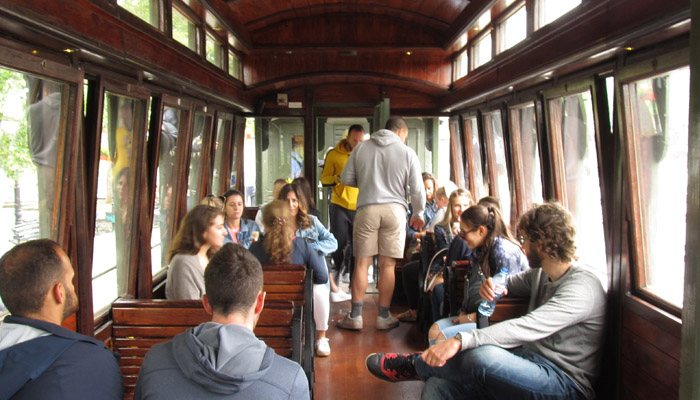 In the end with Sargan Eight train ride, we all had a wide smile on our faces. We were overwhelmed by the impressions and stood silent for a few minutes, collecting impressions.
Milan interrupted the silence: "Hey guys I do not know about you, but I'm ready to eat something. Let's go."
Feel the spirit of old-time and experience your story on Mokra Gora and Sargan Eight tour. This is a journey after which you will look at things from a more beautiful vision, and who knows, maybe you will have more luck than us and see Griffon vulture.